Going into Canada.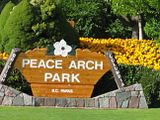 The Peace Arch between Canada and the U.S.
Closing Ceremony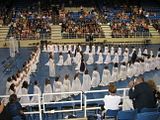 Coming back to the U.S.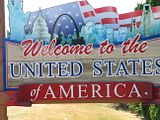 We had a good time in Canada last week. The girls belong to an International Organization, the same one I belonged to when I was a girl. This was the first time I got to go to the International Meeting. Because it was just up the road a piece ( 200 miles). I thought we should go. There was an arts and craft competition and Kim enter 3 of her art pieces and won First Place on all three. Nicole entered another competition for memory work she has the piece word perfect she just needs to work on drama on the delivery of it. I am proud of her for entering even though she did not place, there was over 50 girls doing the same piece in her age group, so competition was tough.
We did not go around to do the tourist thing because there is not much difference between home and there, and we were on a very tight budget.
Next year the meeting will be in Indiana, we hope to be able to make that one too.