This is my Dog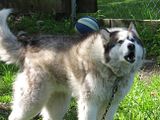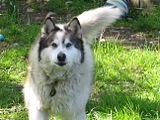 This is Rupert he is a 9 years old Huskey Mix.
We found him or he found us wondering the street. He looked kind of scruffy and a bit starved. I thought he was full grow but found out at the vet that he was barly 3 months old.
He bonded right off with my son who was just 3 at the time.
He is spoiled rotton by everyone in the neighborhood. The people next door buy milk bones at costco just form him, her mom lives 100 miles away and will save bones and mail them up for him. The ice cream man has given him cherry popcicles when we stop him for our own ice cream. The guys across the street will run over to watch him eat it. The paper guy gives him milk bones and the dhl lady has started to give them to him too. People on the corner across the street has given him ham bones with a pound or 2 of meat on it.
He is starting to have trouble getting up and down, he still runs around like a puppy. We will be giving him the old dog formula dog food from now on.
He is a big cozy bear of a dog and loves to play.